Welcome to Choice Dental :
we love to treat kids' teeth
At Choice Dental, we want to treat the entire family, from age 2 through 200. We have a dedicated kids area where they can play games or color.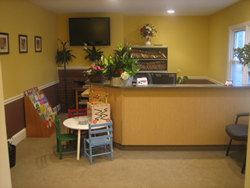 We have televisions in every treatment room so they can watch their favorite tv show during their appointment. At the end of every visit, kids will receive a special prize and a sticker that they can show off to all their friends and family.
We want every child to have a positive first experience at Choice Dental. We encourage parents to bring children with them to their recall appointments in order to meet our staff and get familiar with our office. Once the child seems comfortable with us, we may have them take a ride in one of our "magic" chairs. We want every child to have fun.